Data breach costs the healthcare industry around $7.13 million every year in the US. Smart technology can reduce breach costs by half, but only 23% of healthcare companies have fully deployed such security tools. Malicious attacks account for 50% of the data breaches. Human error and system glitches account for 27% and 23% respectively, per recent analyst reports.
The Health Insurance Portability and Accountability Act (HIPAA) was introduced in 1996 with two goals in mind:
Prevent healthcare fraud, appropriate security to health data, and restrict access only to authorized individuals, and
Ensure health insurance coverage for individuals that are in between jobs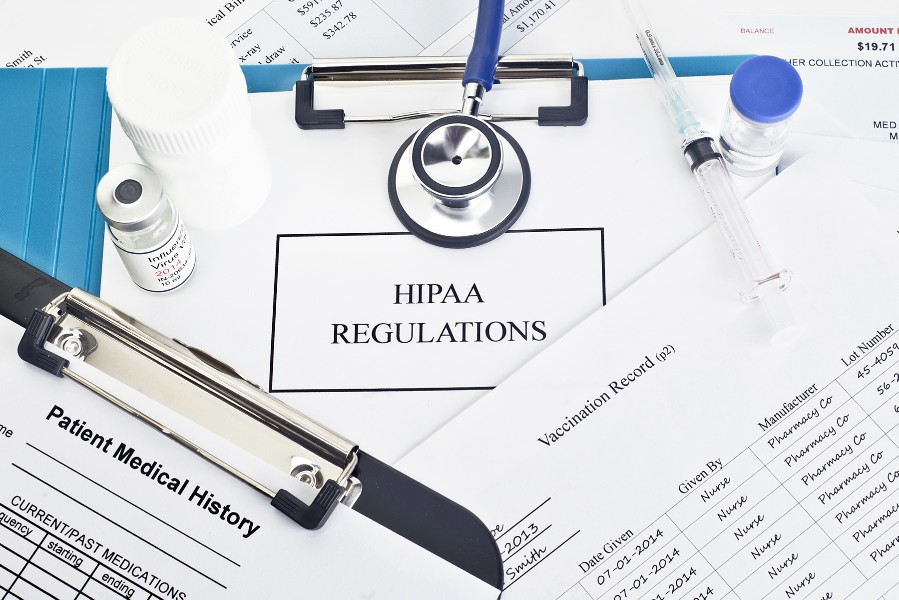 Complying with HIPAA the healthcare industry can reap many benefits, like:
Streamline administrative functions
Improve operational efficiency
Data security and privacy for health information
Standards for health data recording, and transactions keeping stakeholders on the same page
Ease health information transmission between providers, payers, and other entities
Ease of access to information for review, and seeking treatment from new healthcare providers
The covered entities: HIPAA compliance is mandatory for all healthcare entities comprising providers, payers, clearinghouses, and business associates.
Non-compliance and penalties:
A non-compliance is a deliberate or unintentional violation of the HIPAA Breach Notification Rule. Non-compliance is resolved by issuing technical guidance, but serious violations attract financial penalties as in the table below.
| | | | | |
| --- | --- | --- | --- | --- |
| Tier | Violation Type | Minimum Fine per Violation | Maximum Fine per Violation | Maximum Fine per Year |
| Tier 1 | Unaware of HIPAA violation and with reasonable due diligence would not have known HIPAA Rules violation | $100 | $50,000 | $25,000 |
| Tier 2 | Covered entity knew or should have known about the violation with reasonable due diligence | $1000 | $50,000 | $100,000 |
| Tier 3 | Wilful neglect of HIPAA Rules with violation corrected within 30 days of detection | $10,000 | $50,000 | $250,000 |
| Tier 4 | Wilful neglect of HIPAA Rules and no attempt made to correct it within 30 days of detection | $50,000 | | $1,500,000 |
There can also be criminal penalties for HIPAA Rules violation that include jail term as specified below.
| | | |
| --- | --- | --- |
| Tier | Violation Type | Jail Term |
| Tier 1 | Reasonable cause or no knowledge of violation | Up to 1 year |
| Tier 2 | Obtaining PHI under false pretences | Up to 5 years |
| Tier 3 | Obtaining PHI for personal gain or with malicious intent | Up to 10 years |
Common issues leading to non-compliance include: 
Email breaches
Inadequate cybersecurity
Information security risk assessments, and management plans
Business Associate Agreement maintenance, and
Usage of unencrypted electronic mobile devices without password protection.
Outsourcing HIPAA compliance:
Even large organizations don't have HIPAA compliance and cybersecurity expertise. Developing internal expertise is difficult, time-consuming, and expensive involving investments of hundreds of thousands of dollars annually. There is also the risk of programs getting neglected due to multiple responsibilities and a lack of domain knowledge.
With a steep rise in instances of a data breach, regulatory requirements, demand for new technology, and customer pressure for data security, many healthcare organizations choose to outsource.
Here are some of the several advantages of Outsourcing HIPAA compliance :
Minimizing productivity losses from unexpected downtimes
Cost reduction, zero penalties, and fines.
Staff enablement towards business-critical tasks
Outsourcing HIPAA compliance is the best option under current circumstances. With a knowledgeable workforce, required infrastructure and resources, and robust cybersecurity programs they are handling an increasing amount of ePHI. Atlantic RCM is a leader in HIPAA compliance. Working with us, you can expect to gain a competitive advantage, with increased customer satisfaction.
---
Atlantic RCM is one of the leading multi-specialty medical billing companies in USA that serves 25+ major medical billing specialties. Our experts work across your practice in billing, collections and account receivables management, to help you succeed.

Get in touch with the leading medical billing outsourcing company to learn more. Call us at (786) 264-1222 or write to us Info@atlanticrcm.com