Atlantic RCM provides medical billing services that comprise the following functions :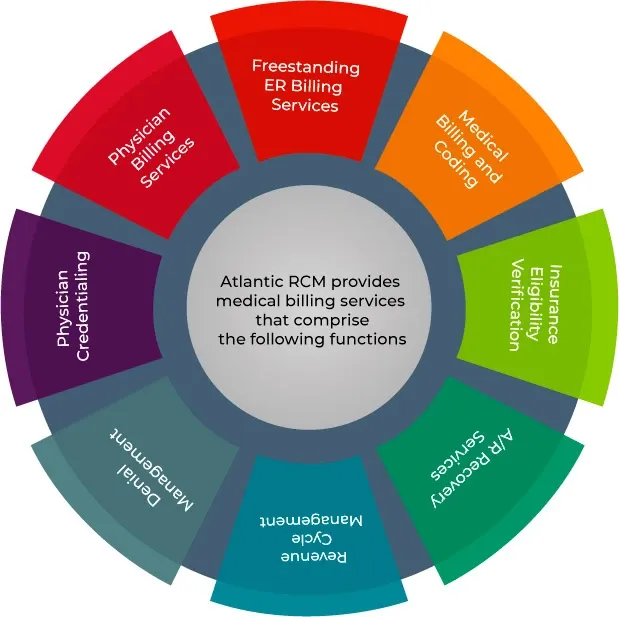 Choose the Best Medical Billing Services for your Practice
While the medical practices are striving hard to improve the quality of their medical performances, Atlantic RCM has emerged as an all-important name in the healthcare domain to take care of their revenue cycle.
Atlantic's physician billing services provides hassle-free business service and solutions for physician practices of all sizes. Our all-encompassing billing service focuses on maximizing collections, reducing errors, and claim denials, enhancing prompt reimbursements. With Atlantic's professional services of billing, claim processing, and collection, you will have more time to focus on your patients and their needs.
Atlantic's physician billing process focuses on every healthcare provider's specific requirements. Our customized workflow seamlessly integrates with your business protocols, exclusively benefitting your practice. Atlantic's certified coders analyze, review, and accurately assign codes that help in error-free submissions and swift reimbursements. We file and track each claim aggressively to prevent any account receivable backlogs. Atlantic's team of experts verifies each patients' insurance eligibility and carries out preauthorization in real-time. Our services boast of timely statements to the physicians and reminders on the outstanding dues to the patients.
Atlantic combines the expert knowledge of its dedicated professionals and streamlines processes to have an impeccable error-free billing and coding record.
---
Some highlights of Atlantic's physician billing services are :