The front desk is the face of your healthcare facility. A knowledgeable and welcoming front desk executive is critical for a positive patient experience. 
Training, educating, and re-educating the front desk staff is mandatory in the dynamic healthcare industry.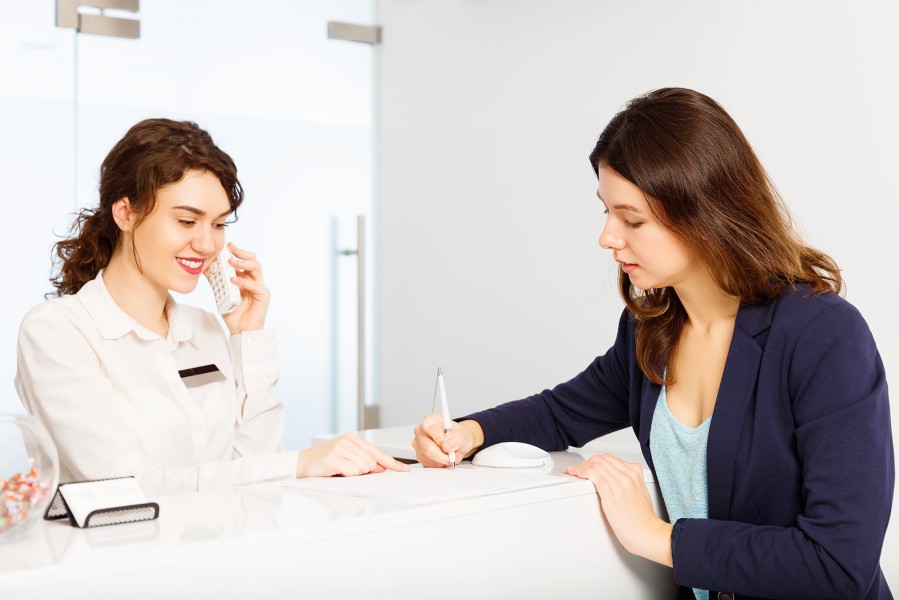 While dealing with patients, the front desk staff should note the following points: 
Knowing the patient 

adds a personal touch to the medical practice and contributes towards the reputation building of the practice. 

Keep patients keep heard-

Staff must ensure that patients walk away feeling heard and acknowledged. 

A positive, caring, and professional attitude

is a must on any day. Considering the patient's state of mind, listening to them will make them understand that they are being taken care of. The front desk staff must break out of their operational silos and facilitate the patient by providing information about another department in the facility. 

Prompt responses and timely services

make a happy patient.
Watch out for billing inefficiencies that you cost the practice heavily
Technology is changing every sector including healthcare. Software and cloud-based services for the healthcare industry are easily available such as Revenue Cycle Management (RCM), and Practice Management (PM). Proper training can significantly improve the efficiency of the front desk. For example, the PM software can enable the front desk staff to instantly retrieve the outstanding balances of a patient on the day of the appointment. Some of the other ways in which technology can be used are:
Online scheduling/ rescheduling/canceling appointments

is no longer a novelty and greatly reduces call volumes. This gives the front disk more time for patient interaction and other administrative tasks

 

Automated appointment reminders 

as a text/ voice message or an email depending upon the patient's choice. It is a better choice when compared to traditional methods of individually calling up patients

 

Automated appointment scheduling 

handles situations when an appointment is canceled. Rather than manually sift through waitlists, the system can identify patients who are most likely to have last-minute availability and offer them the vacant appointment slot. 

 

Digitized patient feedback 

saves time for the front desk as compared to traditional labor-intensive manual survey stalls. Patients can review websites to leave comments about their experiences. Negative comments can trigger alerts for the staff to take remedial actions. 
Outsourcing billing activities to professional medical billing companies in this complex marketplace makes perfect business sense, while the practice concentrates on its primary activity of taking care of patients. They are manned by professionals well-informed about current rules and regulations through continuous vigilance and rigorous training. Auto-checking of patient insurance eligibility, plan coverage, pre-authorization requirements, deductibles, etc are all routine tasks. This ensures accuracy, review, editing billing errors before submission, and reduce rejections. Being HIPAA signatories, they are aware of sensitive patient information and follow the latest data security and privacy practices. Using data analytics and machine learning tools they can make accurate predictions, enabling the healthcare facility to plan accordingly. Outsourcing reduces administrative and operational expenses. 
At Atlantic RCM we can train your front desk for impeccable customer service and improved efficiency. We have extensive experience in enabling the front desks at medical facilities for seamless medical billing services. We are market leaders in patient collections and help increase revenue flow.
---
Atlantic RCM is one of the leading multi-specialty medical billing companies in USA that serves 25+ major medical billing specialties. Our experts work across your practice in billing, collections and account receivables management, to help you succeed.

Get in touch with the leading medical billing outsourcing company to learn more. Call us at (786) 264-1222 or write to us Info@atlanticrcm.com